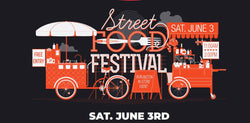 Denninger's
TASTING EVENT - JUNE 3RD -EXPERIENCE STREET FOOD AS WE CELEBRATE THE UPCOMING SOUND OF MUSIC FESTIVAL
Sampling stations with some of your favourite festival foods.  We have in store live entertainment featuring Jamie Petrie

Sound of Music Festival VIP tickets available for purchase in-store. Also, enter for a chance to win VIP tickets.

Experience the vibrant community spirit of The Sound of Music in partnership with Denninger's.
This tasting event is on Saturday June 3rd from 11:00 am to 3:00 pm
Location: 777 Guelph Line Burlington L7R 3N2